The DL 500 is a double sided conveyorized spray etching machine with integrated rinsing zone. This machine is easy to maintain and fits perfectly to a modern PCB laboratory. The maximum capacity within one hour is 10 m². Designed for being used for laboratory purposes, there are lots of different applications (e.g. spray developing of tenting or solder mask) and options available.
Of course the machine can be modified according to your needs.
FEATURES
Working width 510 mm
Adjustable conveyor speed 0 – 1.5 m/min.
Joint free belt drive
PCB is firmly secured by upper and lower transport rollers
Powerful etchant pump (200 l/min)
Double sided etching with 4 x 14 flat jet nozzles. Due to special nozzle pattern, there are 6 rows of nozzles for each side !
Adjustable spray pressure. Upper and lower spray pressure can be regulated separately
Thermostat with digital read out and selfsafe overheat cut-off
Integrated rinse zone. Optional fresh water rinse with solenoid valve or recycle water tank
Drying by squeezing rollers with tissue Sturdy stand alone construction from PVC and Titanium
Transparent top with security switch
Line definition down to 35 µm lines and spaces on 18 µm copper
1000 W quartz heater
Maintenance free design, just normal cleaning/refilling
Easy disassembly and full access to all inner parts without special tools
Suitable for all regular etching agents. We recommend to use ferric-chloride. Please pay attention to the special features of each etchant (crystallization of persulfates and ammonium, exothermic reactions while etching). For alkaline etching, machine must be modified.
TECHNICAL DATA
Power supply: 230 V~, 50 Hz, approx. 1.5 kW
Dimensions: (LxWxH): 1200 x 670 x 1290 mm
Weight: approx. 100 kg
Etchingformat: 510 mm x endless
Working Level: approx. 55L
VARRIANTS
Variant # 1 Spray Developing Machine
The DL 500 can be used as a spray developing machine for negative and positive etch resist or solder mask without modifications. Simply change the media!
Variant # 2 Spray Etching Machine
standard variant
Variant # 3 Spray Stripping Machine
This machine is equipped with an additional filter basket at the front side of the machine to remove residues of tenting or solder mask from the stripping liquid (see picture on the right).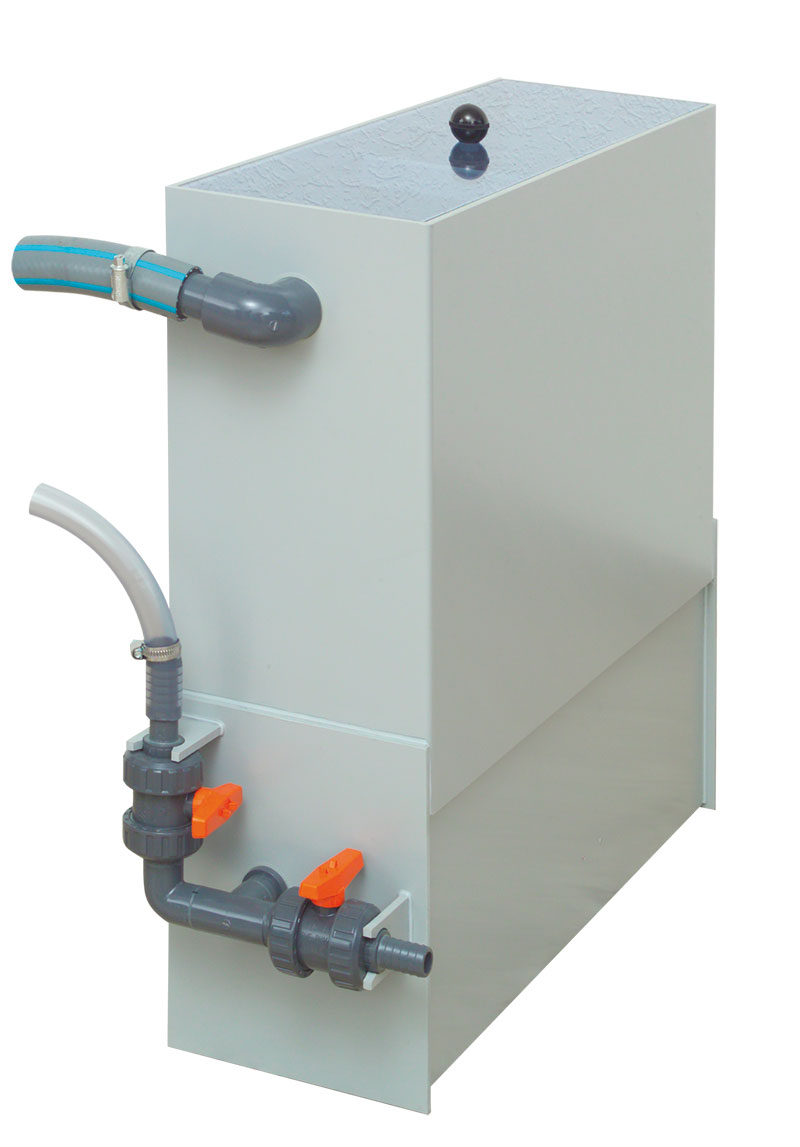 Option # 1: Closed-loop Rinsing Tank
Recycled rinsing tank with magnetic centrifugal pump instead of fresh water. Saves water costs. With a cock drain valve the used rinsing water can be used to compensate evaporation losses or to make up new etching liquid. Waste water free rinsing technique. The magnetic valve from the standard version is here obsolete. The tank fits underneath the machine body of DL 500. Format: 200x600x700 mm (BxHxT).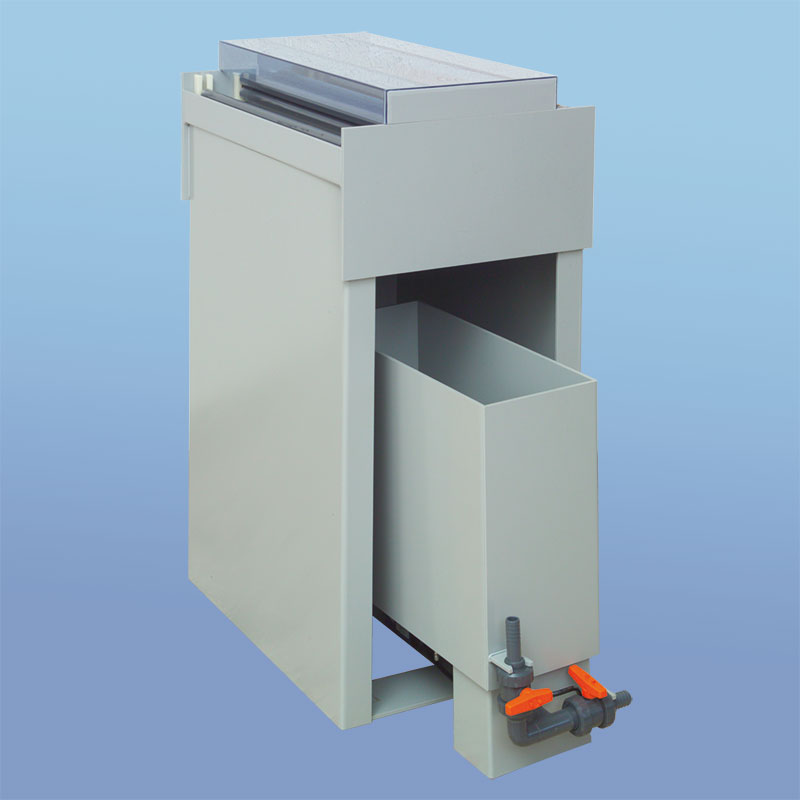 Option # 2: Conveyorised Rinsing Unit
a.) conveyorised rinsing unit, stand alone version with adjustable conveyor speed, integrated magnetic valve for fresh water inlet (controlled by DL 500), squeeze drying roller. Transport width and height same as DL 500. Format: 450 x 940 x 620 mm (BxHxT)
b.) as above but second stage cascade rinse (in combination with recycled rinse tank and magnetic centrifugal pump), 3 way cock valve to bypass rinsing water e.g. to water treatment unit IONEX. Format: 450 x 940 x 620 mm (BxHxT)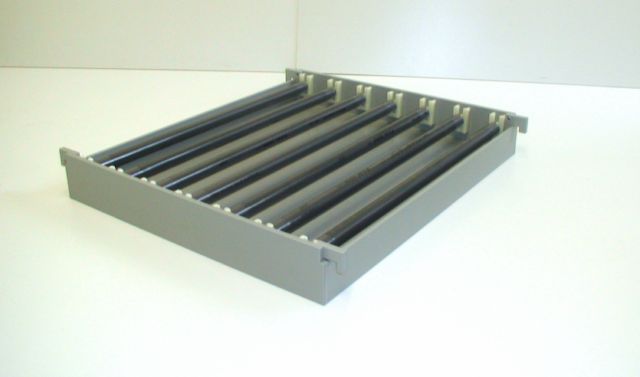 Option # 3: Inspection Table
Control zone in form of a roller table (not conveyorised). This roller table can be mounted between two DL 500 (e.g. Developer and Etcher), between DL 500 and rinsing unit or as a single exit table. Format ca. 620x530x50 mm (BxHxT)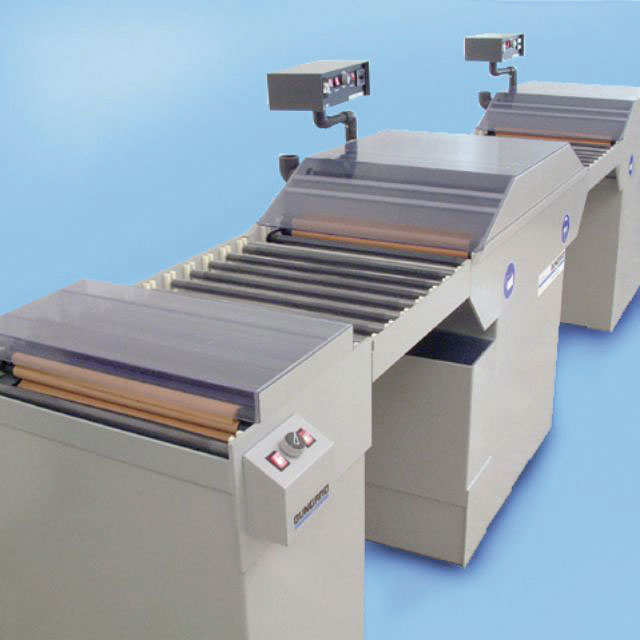 Option # 4: Production Line
3 DL 500 and the rinsing unit can be connected to a small production line (Developing – Etching – Stripping – Cleaning) coupled together with inspection tables. Of course other variants are possible as well.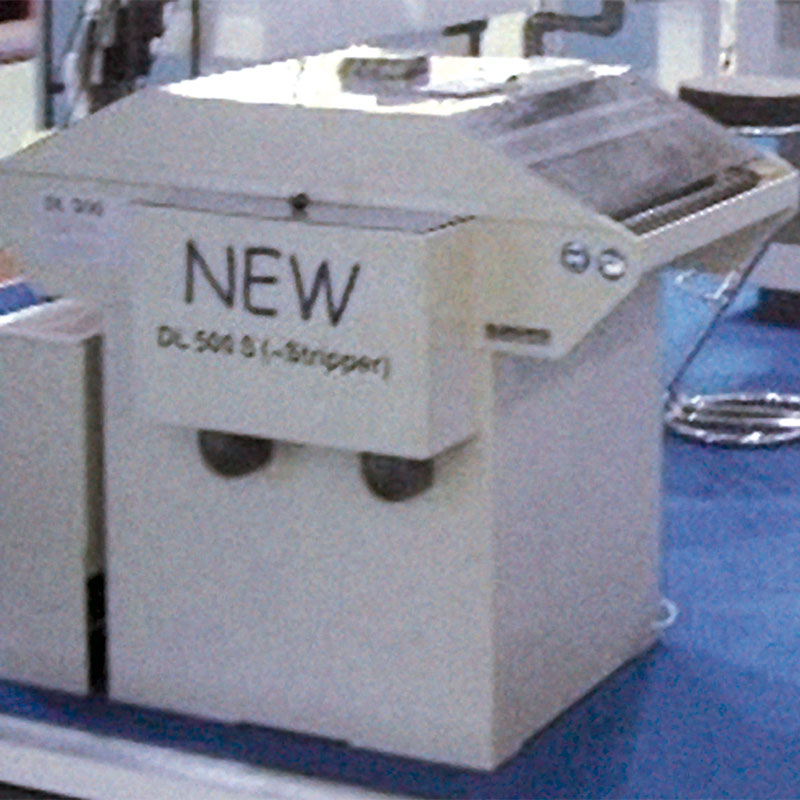 Option # 5: DL 500 S
This machine is equipped with an additional filter basket at the front side of the machine to remove residues of tenting or solder mask from the stripping liquid.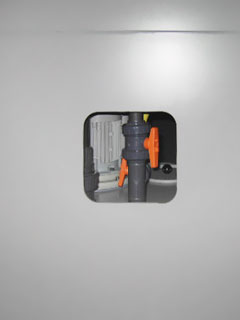 Option # 6: DL 500 Vario
DL 500 Vario with separate adjustable spray pressure for the upper and lower side. For physical reasons the etching result from the upper side is different from the lower side. Adjusting the spray pressure for one side may compensate this phenomena. In contrast to etching machines from competitors the PCB in the DL 500 is firmly fixed throughout the whole process by upper and lower transport rollers. This makes it possible to switch off completely the upper nozzles without lifting the PCB by the spray pressure of the lower nozzles.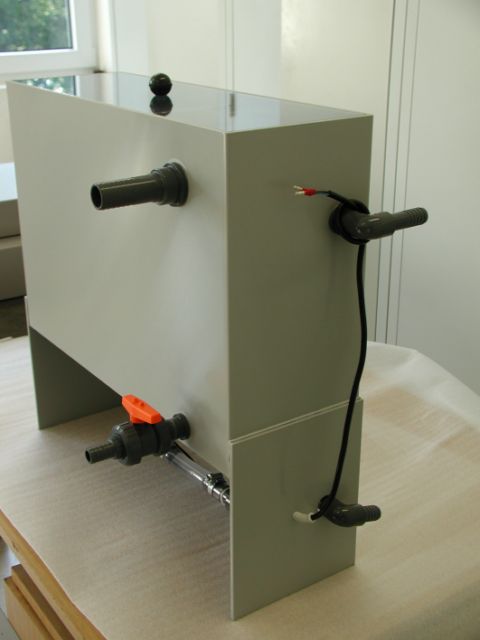 Option # 7: Cooler
Some etching agents as well as other chemicals tend to exothermic reactions and need to be cooled during the treatment process. For this purpose we offer a special cooler for the DL 500. The Cooler consists of a recycling rinsing tank with cooling coils for the etching liquid. With a cock valve the etching agent is adjustable bypassed through the cooler.

Option # 8: DL 500 triple phases power supply
You can order the DL 500 either with a single phases or triple phases power supply.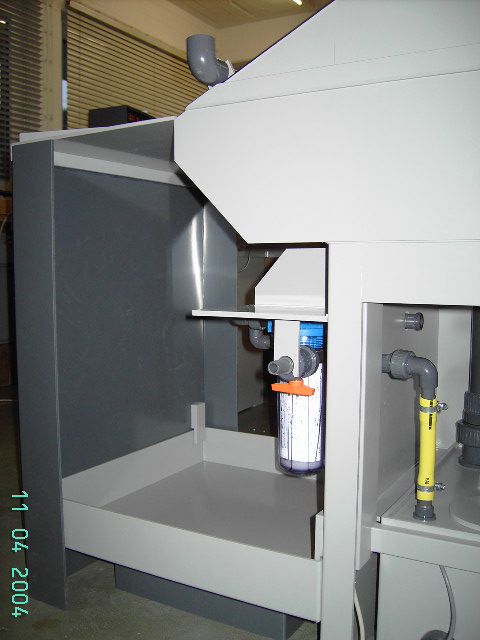 Option # 9: Filter unit
On request you can equipp your DL 500 with one or two 10 " filter units to remove residues from the etching process. You can easily adjust the filter throughput via cock valve. On the picture you can see a filter unit together with an exit table.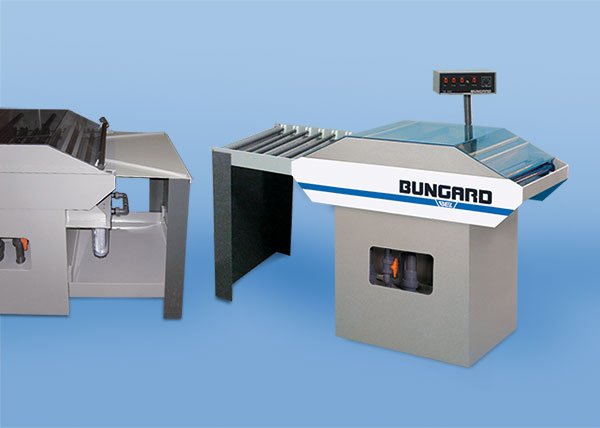 DOWNLOAD